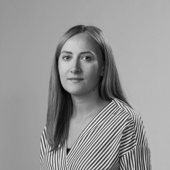 Emma Campbell
Senior Key Account & Marketing Project Manager – Commercial
What are your passions? 
Even though one of my main interests is fashion, I have a passion for social media, design and e-commerce. Looklet has allowed me to integrate these interests into my role while still getting to work with clients which I always enjoyed.
What does a typical work day at Looklet look like for you? 
My working days always vary so I could be liaising with clients, researching for new projects, shopping for our image gallery or even putting together social media posts. What I love about Looklet is that the product is forever evolving so there will always be new projects to work on.
What has your time at Looklet given you so far?  
From day one I've been surrounded by supportive and collaborative coworkers. I've also been given the freedom to really take ownership within my role which is something I've never had in the past.